Au Lit: a wide range of mattress toppers
Add a topper to your mattress for the ultimate comfort
A topper is the ideal bedding item to enhance the comfort of an overly firm mattress. When you add a luxurious pad on your mattress, you'll feel like you're on a cloud!
At Au Lit, find a topper that will provide you with a superior level of comfort for many years to come.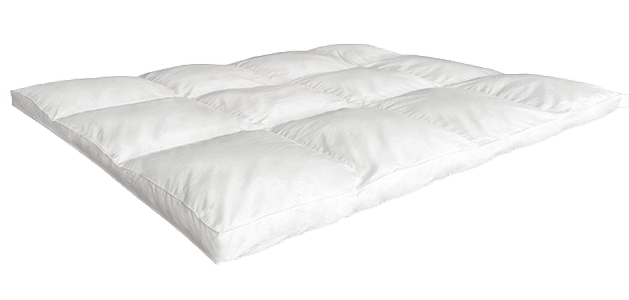 The mattress topper: a little-known product in Quebec
The mattress topper is a sleep product becoming increasingly popular. Relatively new to bed culture in North America, it offers luxurious comfort by perfectly wrapping the body in an ultra soft material.
By relieving pressure points, especially on the shoulders and hips, a topper lets you fall into a deep sleep and enjoy a rejuvenating night.
The different types of topper offered by Au Lit
Although all toppers are designed to provide ultimate physical comfort for sleepers who prefer a soft bed, they aren't all made from the same materials.

This type of topper is usually filled with down or goose or duck feathers, or a mixture of both.

Microfibers offer an affordable and ethical alternative to down and feathers. This product offers a level of softness comparable to a natural topper. 
Whether you choose a mattress topper made of natural or synthetic materials, all the mattress pads offered at Au Lit are hypoallergenic and designed to maintain their softness for years to come.
Why buy your mattress topper at Au Lit?
Au Lit not only offers a wide variety of natural or microfiber mattress topper models, it also guarantees a pleasant shopping experience.
Delivery service,
details in store
Financing available and secure payment

Quebecers' #1 choice when it comes to value for money of its products, details in store

Exclusive models, some of which are made in Quebec
Need the advice of a sleep expert? Visit us in one of our stores.
With Au Lit, sleep well, live better!